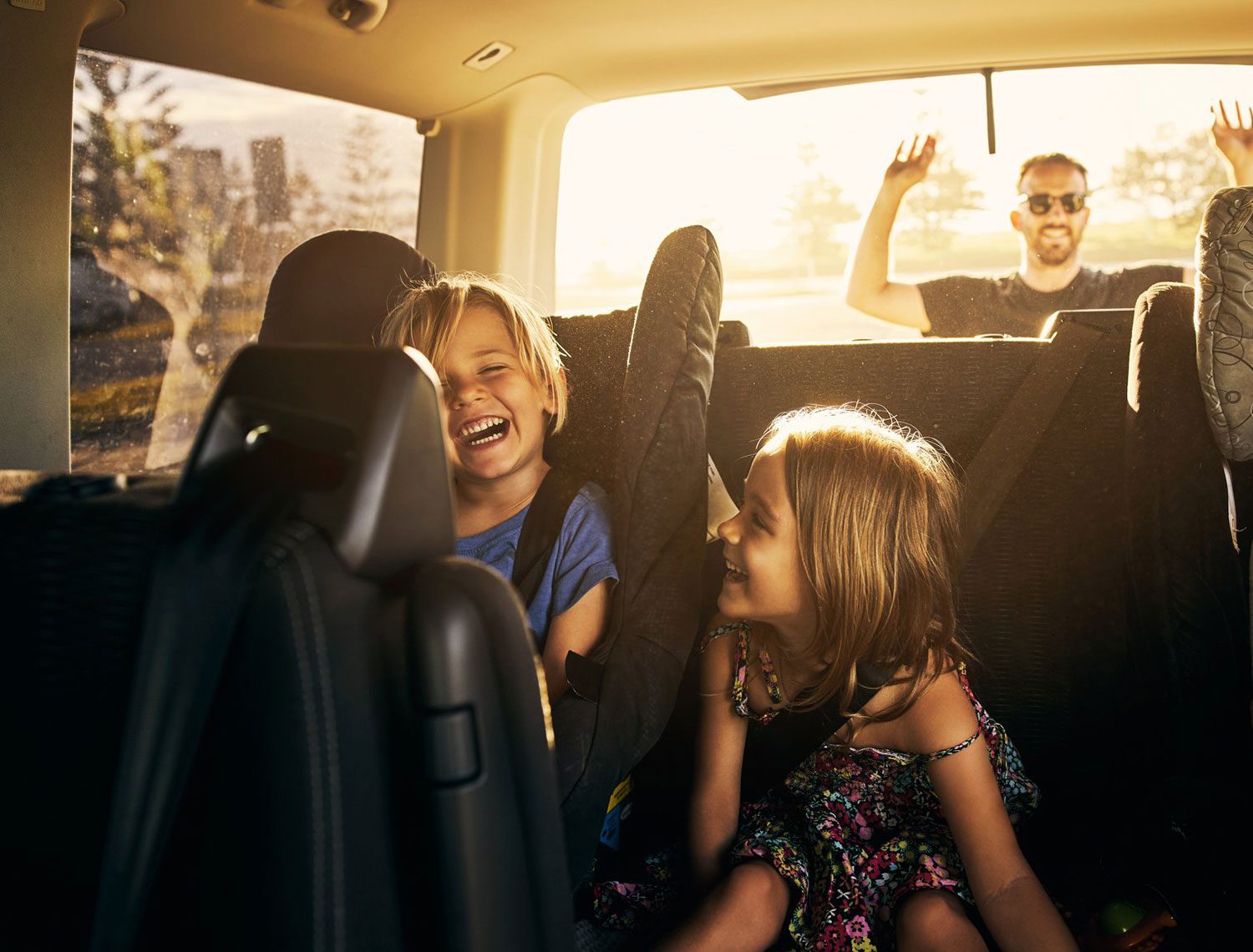 PROTECT CHILDREN FROM DIRECT SUNLIGHT
Sun protection for car for children
---
PRIVACY & SUN PROTECTION IN ONE – THE PERFECT FIT CAR WINDOW TINTING SUN PROTECTION FROM SOLARPLEXIUS
As a parent, you know how exhausting it can be to be in the car with smaller children. Especially when the sun is high in the sky. We often see emergency solutions, for example towels are clamped in the window or much too small sun protections with a suction cup, these solutions often cause more frustration than help. With our car tinting sun protection system, you have sunshades that fit perfectly, no matter where the sun is. Solarplexius effectively protects against solar radiation & UV rays and ensures that your vehicle heats up much more slowly.
Never leave children and animals alone in your car. Even at normal temperatures, the passenger compartment can become so hot that occupants would be exposed to serious health risks.
PROTECT YOUR CHILDREN FROM
UV-A AND UV-B RAYS
Whether it's because of a low-lying sun or a long drive, children are more often dissatisfied in the car. Solarplexius not only protects your occupants from too much solar radiation as well as UV-A and UV-B rays, but also protects your nerves with less complaining on the rear seats.
Depending on the position of the sun and the outside temperature, the interior of the vehicle can heat up to temperatures of more than 50 degree Celsius. Please ensure sufficient cooling via air conditioning and fresh air supply.
HOW QUICKLY DO CARS HEAT UP IN THE SUNSHINE?
As you can see in this table, the temperature increases dramatically after only a short time.
| Outdoor temperature | indoor temp. after 5 min. | n. 10 Min. | n. 30 Min. | n. 60 Min. |
| --- | --- | --- | --- | --- |
| 20°C | 24°C | 27°C | 36°C | 46°C |
| 24°C | 28°C | 31°C | 40°C | 50°C |
| 30°C | 34°C | 37°C | 46°C | 56°C |
| 34°C | 38°C | 41°C | 50°C | 60°C |
| 40°C | 44°C | 47°C | 56°C | 66°C |
SOLARPLEXIUS SLOWS DOWN THE HEATING
The interior of the car can quickly heat up to twice the outside temperature not only in summer due to solar radiation and higher outside temperatures. Babies and children have sensitive skin and therefore need special protection from harmful UV rays.
Our car sunshade is therefore particularly suitable for installation in family cars because, unlike many competing products, it covers the entire window, so your children are well protected from the sun and its UV rays. No matter at what time of the day you are driving.
Another advantage is the good view through the unbreakable Macrolon acrylic glass. This significantly reduces the risk of travel sickness (compared to mesh sunshade). This is very important, especially on longer car journeys, let's say on vacation.
In general, it is also important that you protect the interior of your car well from excessive exposure to the sun. The interior can be very dangerous if there is too much sun, especially for small children: Heat build-up and circulatory problems can be hard for children – even on short trips.
With our car tints, your vehicle heats up to 30% more slowly.
(Compared to a vehicle without sun protection) You can also see a direct comparison here in the video. In our test, we parked 2 identical vehicles in the sun for 25 minutes.
In order to slow down the heating up of your vehicle, we naturally recommend the tailor-made sun protection car tinting from Solarplexius.
YOUR MOST IMPORTANT QUESTIONS:
Is the Solarplexius sun protection safe?
Our sun protection car tints are unbreakable and TÜV-certified. We had it tested in crash tests and by all sorts of volunteers. On the contrary, we often receive e-mails from customers where the Solarplexius car tints prevented occupants from being injured by flying glass splinters during an accident, it basically acts as a shield.
How is the Solarplexius car tints attached?
Our tailor-made car tint sun protection is specially tailored to your vehicle, so you can easily place and assemble it in the vehicle yourself. To install, simply place the sun protection from the inside in front of the vehicle window (behind the vehicle paneling) to prevent it from slipping, also place the supplied retaining clips. You can find out more about installation here:
Can I still use the rear windows?
The Solarplexius car tint is inserted from the inside into the existing door seals of the windows. If you operate the windows, the original windows go down and up again. The privacy sunshades stay put because they would scratch the brush seals when shutting down. If you want to let air into the vehicle, the sun protection shades can be removed quite easily. Later you put them back in again. It is important to avoid lowering the windows while driving, in the best case you lock the electric windows on the back seat. If the rear windows are used more frequently, we recommend that you only tint the fixed windows.
You have further questions?
We have put together more information for you in our FAQ.
If you don't find what you're looking for there, don't hesitate to write to our support.